As part of its 40th anniversary celebration, Starbucks has updated its well-known siren logo, which now represents the company's plans for future development. It's the fourth version of the round banner since the coffee company was founded in 1971, and this time the creative team removed the lettering from the logo just like Nike and Apple did before, and replaced the black background with the white one.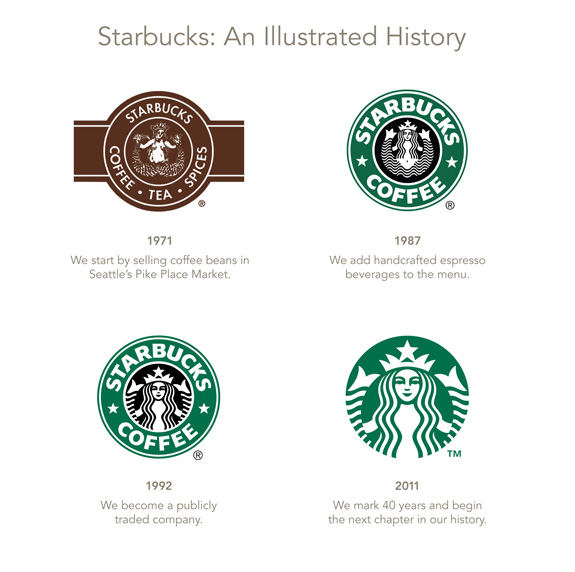 "Throughout the last four decades, the Siren has been there through it all. And now, we've given her a small but meaningful update to ensure that the Starbucks brand continues to embrace our heritage in ways that are true to our core values and that also ensure we remain relevant and poised for future growth," said Howard Schultz, CEO of Starbucks.
The decision to change the visual identity is explained by the fact that today Starbucks is the biggest coffee chain on the international market and is highly recognizable all around the globe, so they don't need to remind their consumers who they are on every corner—people already know it. Starbucks is now taking the sea lady out of the ring—and this move symbolizes the company's intention to continue its development not only in the coffee business, but in other food-related markets across the globe as well.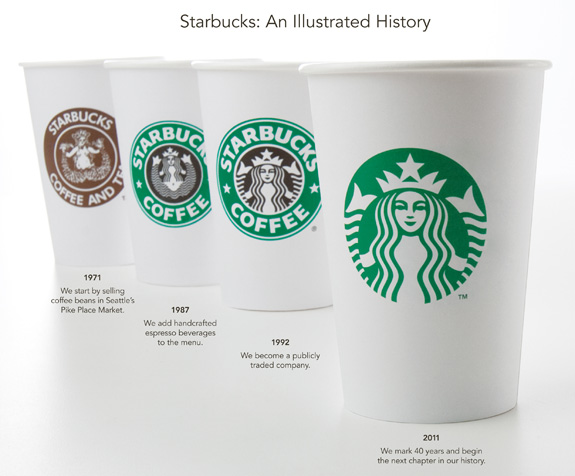 "From the start, we wanted to recognize and honor the important equities of the iconic Starbucks logo. So we broke down the four main parts of the mark—color, shape, typeface and the Siren. Removing the words from the mark, bringing in the green, and taking the Siren out of her ring. For forty years she's represented coffee, and now she is the star. The result is an evolved logo that celebrates the Siren in a much bolder way—it's more expressive and energetic and still uses the same vibrant green circle that is so well recognized by our customers around the world," commented the senior creative manager at Starbucks (his first name is Mike, his second name was shortened to P.) on the company's website.
For the past four decades, the company has managed to expand its range by non-coffee products (tea, ice cream and other grocery goods) and introduce a variety of services to make shopping experience richer (digital entertainment network, reward cards, mobile payment service, etc.).
Starbucks is going to unveil the refreshed logo across its stores in March.